South African pastors have clashed over the resurrection of a 'dead man' last week.
Alpha Lukau, has been challenged by colleague pastor, Mboro Motsoeneng to bring back to life South Africa's founding father, Nelson Mandela.
This happened on Thursday after self-styled prophet Paseka Mboro Motsoeneng appeared in his 'beast' BMW 18 and knocked the locked gates of Lukau's Alleluia Ministries International in Johannesburg with the mission of confronting Lukau about raising a man from the dead.
Shouting, "I'm here to get answers!" outside locked gates, the church members, refused to let him in, instead, they locked the gates and walked away as he approached.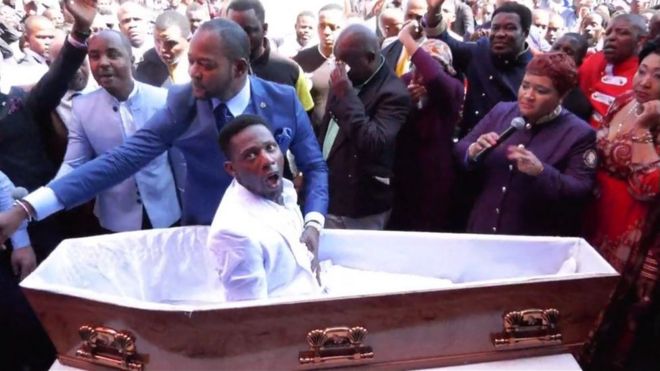 He said if the pastor really had the power to resurrect, they should head over to Nelson Mandela's grave and bring him back to life."Why do you walk away if I am wrong? I want you to surrender and apologize. Can I see the leadership of the church? Maybe I can be prayed for. I want to call the pastor that we go to Nelson Mandela's grave and raise him," he said as the church members walked away.
After being denied entry to the Alleluia Ministries International premises on Thursday, February 28 2019, controversial pastor Prophet Paseka "Mboro" Motsoeneng resorted to opening a criminal case against the church's leader, pastor Alph Lukau.