Mombasa Governor Ali Hassan Joho is among Kenyans of goodwill who have come to the rescue of celebrated actor Joseph Kinuthia, popularly known by his stage name, Omosh. 
The money is being raised to assist the actor get a financial footing after struggling with unemployment coupled with alcohol abuse. Strict measures have been put in place to ensure that the raised money does not go to waste. 
Abel Mutua and Omosh's wife will be signatories to his bank accounts. This according to Jalango will be done with the aim of ensuring that he does not end wasting all his money on alcohol.
During a live interview hosted by radio presenter Jalango with the aim of fundraising money for Omosh, Joho sent the actor Ksh100,000 with the aim of helping him get back on his feet.
"This is life, we will pray for you and you will be okay," Joho encouraged Omosh.
He had earlier on praised Omosh for all the happiness he brought to Mombasa residents during his years as an actor.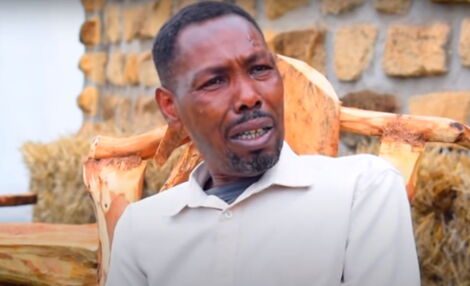 During the live, a company that deals in timber and selling of homes announced that they will start building a house for Omosh on the land he was given to by Zero Hero properties on Thursday, February 18.
"We decided to come together and build Omosh a house on the land he was given by Zero Hero properties. We will be moving into Omosh's land and build a home for him," they stated.
Waruru Wachira, Managing Director, Citizen TV, sent the actor Ksh 50,000 and promised to help him.
"I am happy to support Omosh. If you need anything I am happy to help you. Just reach out. Jalang'o you have done a great thing in supporting Omosh," the MD stated.
Businessman and politician Allan Chesang pleaded Ksh 100,000 and offered Omosh a teaching job in a theatre school that he will be unveiling soon.
Omosh also opened up on how Abel Mutua helped him at a time when he was facing eviction.
"I have a friend I can't forget. There was a time I was facing eviction, I called him and he sent me Ksh 50,000. His name is Abel Mutua. I actually knelt down and cried," Omosh said.
Other brands have also chipped in in raising hundreds of thousands for the actor. This will go a long way in supporting the actor. His paybill number is 8021711 and the account name is Omosh.
The widely known actor shared his financial troubles on social media and asked Kenyans to help him since he was facing eviction over rent arrears.