Yes, you read that right. Dickmatization. Dickmatized. Don't know what that means? You're about to find out in just a few.
Now, it's no longer uncommon for relationships to break and make up faster than I can say Hey in this day and age, but I wanna focus on the women.
Dear fellow women, why do you settle for less in a relationship just because a nigga has a big d*ck? Yes, I'm talking to you. You know it, I know it, everybody knows it.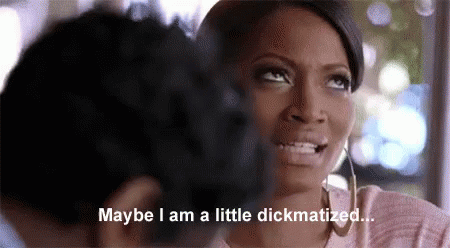 That man doesn't deserve you, so don't let him get to your head.
See the mistake women make is that sometimes, we forget ourselves after meeting someone new, and unfortunately for most women, the remedy to that is a good, satisfying d*ck appointment…and/ or food, whichever comes first.
Ladies, I just want you to know that there is absolutely nothing wrong with wanting to get satisfied in every way possible. In any case, rarely do we get the satisfaction we so often crave from these mediocre boys so I shouldn't really blame you smh.
It's just often wondering why the best of sex escapades end up being with the Brian's, Kevin's and Johnte's of this world…. and ironically they fit the category of fvckboys…at least most of them do.
And guess what ladies, I get it. It's awesome I know.
We've heard of women fighting over men, women wanting to be side chics on purpose to certain men. women literally begging men for a piece of that good sh*t, heck, it's a crazy world outchea smh
Men, this goes out to you. Women will easily fall in love with you once you hit it….if it's good enough I mean.
And that, ladies and gentlemen, means that she's officially been dickmatized by you. Congratulations lol.
But what y'all fail to understand is that you can't change a person.
My advice to you, Make whatever it is you want clear to each other before engaging in anything.