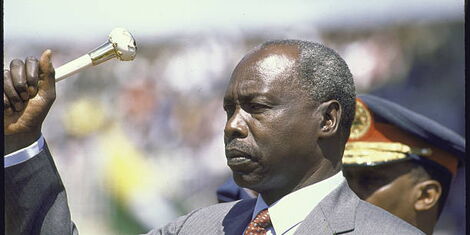 Former retired President Daniel Toroitich Arap Moi is well known for his slogans and reigning for a whooping 24 years.
Moi is a long-serving President in Kenya's history and his 'dictatorship' came to an end constitutionally in 2002 and paved way to multiparty.
He became president and took the oath of office. He was popular, with widespread support all over the country. He toured the country and came into contact with the people everywhere, which was in great contrast to Kenyatta's imperial style of governing behind closed gates.
Political realities, however, dictated that he would continue to be beholden to the Kenyatta system which he had inherited intact, and he was still too weak to consolidate his power.
The Kikuyu elite referred to him as "a passing cloud". This was not the point as he soon cracked the whip on his enemies which led to the 1982 coup.
Arap Moi united Kenyans with many symbols that kept him in office for two decades before the change in constitution to limit age and terms of serving the people of Kenya in the office of the president.
From Nyayo philosophy to songs of praises, Moi brought Kenyans together and ruling with an iron fist mad enemies numb.
Moi advocated for development, peace and unity among  Kenyans through the Nyayo philosophy that translated to following the footsteps of the founding father, Jomo Kenyatta.
He used Nyayo as part and parcel of his regime where he introduced Nyayo institutions and the ever lucrative Maziwa ya Nyayo.
The prominent 'dark room' that enemies of progress were detained was also named Nyayo Chambers that saw former Prime Minister Raila Odinga tortured.
The main slogan that he could not miss in events and public functions is his 'rungu' which is symbolic and raising of one finger which symbolizes the KANU party.
"Tingisha kidole cha chama" he could say to the crowd and some raised party's flag to show harmony.