Local media journalist has shown that beyond his career he is still human by cooking for the family he was interviewing.
The sparking debate on Turkana drought has brought Kenyans together with the aim of pressuring the government to act swiftly.
Deputy President William Ruto has been on the front row of distancing the government from claims of death caused by hunger.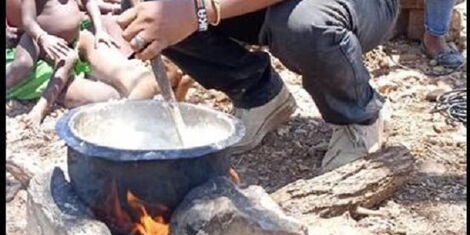 Citizen TV's Enock Sikolia cookinf for a family in Turkana
On Wednesday, DP Ruto insisted that the report in local media stations is fake news.
The shock now is on Kenyans who are not sure who to trust between the media and the government. But why would be the media's motive to expose dying people?
The government is still not clear on why it is claiming that no death has been reported in these areas despite not putting any measures after the report of possible drought by the weatherman.
CS Fred Matiang'i insisted that the chief who was interviewed by media was fired a long time ago.
"It's true we have not lost any life due to the drought situation. The chief purporting to report on the drought situation was fired a long time ago. The CC Baringo has confirmed that no deaths have occasioned by current drought situation," Matiang'i said on Wednesday in Mombasa.
Kenyans are somehow tired with the kind of leaders they have and it will not take long before we go the Algeria way where thousands of citizens stormed the streets in protests of removal of ruling government under ailing Bouteflika.
Turkana families looking hungry and with poor health
But are over forty million Kenyans really tired?
Kenyans are always united in three things; injustice, gossip, and s3x but forever divided when it comes to elections and 'mtu wetu' syndrome which is the root cause inadequate developments and poor distribution of the public fund in the country.
Here is DP Ruto saying that the reports are fake news;
Kenyans on Twitter took their frustrations and formed #WeCannotIgnore hashtag and even others creating a pay bill to get food to the victims.
Here are some of the reactions;
— Engr_McArum 🇰🇪 (@Collo10_Cfc) March 21, 2019
as it has always have, and we will be saying no one have died of floods bla bla bla…. like none is dying of drought.

When will we have a responsible service system.

how prepared are we.

#WeCannotIgnore

— N.Austin 🇰🇪 (@Ngacha_Austin) March 21, 2019
— Linus Kaikai (@LinusKaikai) March 19, 2019
The money and food donated to curb the hunger in Turkana are yet to reach there while Sonko's Rescue Team has delivered its six tracks of food.
The debate will not end today, not even tomorrow but perhaps one day Kenyans will wake up.
What is your take on the whole drought and hunger 'fake news'?